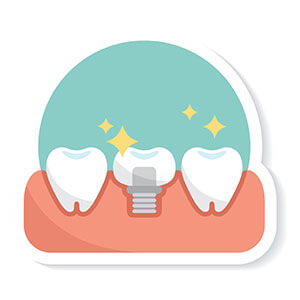 Dental implants are permanent replacements for missing teeth. Normally placed by an oral surgeon, dental implants are bio-compatible, they fuse to your jawbone naturally and function exactly like a natural tooth. As sturdy replacements to natural teeth, dental implants can prevent further tooth loss because they provide the structural support that surrounding teeth need to stay in their proper positions. After receiving dental implants, we will provide specific instructions regarding post-operative care and oral health.
After it is determined that you are a candidate for dental implants, the first step in the process to replacing one or more missing teeth will consist of a small surgical procedure to place the titanium implant into the jawbone where you are missing a tooth. After the initial placement of the implant, patients will undergo a recovery period to ensure that the implant integrates to the jawbone properly. Once this process is complete, patients will return to their dentist for the placement of the crown, which is permanently secured to an abutment attached to the implant. The crown is carefully fabricated to match the proper shape and size of the tooth it is replacing. Made from durable materials, crowns can withstand the pressure and force associated with chewing food.
After receiving dental implants, we will provide instructions and resources regarding post-operative care and oral health. Because dental implants function like natural teeth, patients should make sure that their oral hygiene regimen includes daily flossing and brushing at least twice per day. Most patients with good oral health will only need to visit their dentist twice a year for cleanings and annually for examinations. With regular dental checkups, healthy eating habits, and proper oral hygiene, dental implants can last for decades.
To learn more about dental implants and tooth replacement options, schedule a consultation with Prestige Oral Surgery at 732-297-7000.