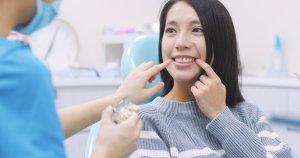 Planning Dental Implant Placement
At Prestige Oral Surgery, we have helped a number of patients restore their smiles using dental implants. The effectiveness of implant dentistry treatment is based on proper treatment planning.
Determining Candidacy For Dental Implants
Before any kind of oral surgery can move forward, it is imperative to determine if a patient is a good candidate for dental implants. This will involve an assessment of the patient's oral health and general health as well as an assessment of bone density.
Bone Grafting
If a patient has a poor bone or gum density in the area, it is possible for the patient to undergo bone grafting and or gum augmentation surgery in order to increase the density of the hard and soft tissue in the area.
Selecting The Number Of Dental Implants
Another important concern when it comes to planning dental implants placement is determining the number of implants to be used.
If a patient is only missing a single tooth, just one dental implant will be ideal for supporting a single dental crown. For patients missing multiple teeth, a bridge or denture will be necessary, and these appliances will need to be supported by more than one dental implant in order to ensure proper stability and strength.
Considering Placement Of The Implants
In addition to the number of dental implants required, the placement of the implants will need to be considered. Using scans and x-rays, we will note the shape of the patient's dental arch and determine the proper position of the implants so that stability is maintained and any weight and stress is properly distributed while a patient bites and chews.
Patients Information
Patient education is always important when it comes to advanced dental therapies, which is why our team will provide patients with ample information about the entire dental implants process. We will make sure that you are completely informed when it comes to the dental implant process so you can feel comfortable and empowered about your dental health.
Consultation
For more information about dental implants contact Prestige Oral Surgery today at 732-297-7000.