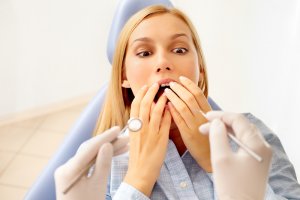 Traumatic injuries can affect our bones, muscles, skin, and teeth. Injuries to teeth most often happen as a result of sports injuries or similar accidents. Severe dental injuries include dislodged or knocked out teeth. Treatment and prognosis of the dental injury depend on several factors, such as the severity and type of the injury, and the location of the injury in the mouth. It is imperative that anyone who experienced a dental injury seek the attention of a dentist immediately. This is, in part, due to the fact that adjacent teeth can suffer silent, but serious injuries. Many times your dentist can save injured teeth. If they cannot save an injured tooth, a dental implant is the best option for tooth replacement.
What Is A Dental Implant?
Dental implants are the best and most stable option to replace missing teeth. Dental implants are titanium screws that function as a tooth root and is placed directly into the jaw bone. Over time, bone grows around the implant, making it more stable than a simple bridge or other tooth replacement. Dental implants can be used for a single tooth, several teeth, or with partial or full dentures.
How Are Dental Implants Placed?
The answer to this question can vary, depending on the needs of the patient, the location and number of teeth being replaced. Some types of implants can be completed in one day. In general, the implant is first placed into the jaw and the gum is sutured around it. The second step involves attaching an abutment to the actual implant. The crown, or the visual part of the tooth, is then placed on the foundation shortly thereafter. The crown is unique to each patient and made to be the right size, shape, and color to match the natural teeth.
Appointment
If you have suffered trauma and are considering dental implants to replace missing teeth, please contact Prestige Oral Surgery at 732-297-7000.