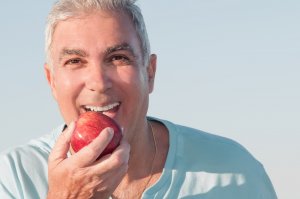 When using traditional dentures, it can be frustrating to deal with the inconveniences of false teeth on a daily basis. From speech problems to a change in diet, dentures can pose a whole set of problems of their own. Implant-supported dentures are the most stable, secure, and life-like method of replacing one or more missing teeth. By anchoring dentures to titanium dental implants, patients will regain the freedom and control they had with their natural teeth. Dental implants hold dentures securely in place.
Benefits Of Implant Supported Dentures
Since dental implants fuse with the jaw much like the roots of natural teeth, they are generally a superior form of tooth replacement. With implant-supported dentures, you can expect to gain the following benefits:
• A stronger hold
• Great comfort
• Improved diet
• Improved speech
• Prevention of bone loss
Esthetic Benefits Of Implant Supported Dentures
Anyone who has suffered from a missing tooth, or a number of missing teeth, can attest to the devastating effect an incomplete smile can have on a person's self-confidence. In addition to restoring your bite and ability to enjoy your favorite foods, dentures are remarkably natural looking, down to the finest detail.
Oral Health Benefits Of Dentures
Missing teeth can greatly compromise your oral health. Without an entire set of fully functioning teeth, patients may suffer from problems with chewing ability and speech. Designed to restore your oral health to its optimal level, dentures return to comfort and vigor to your bite.
Schedule A Consultation
For more information about all of your options for treating missing teeth, contact Prestige Oral Surgery. We look forward to your visit and helping you achieve the best possible results with regard to your overall dental health and wellness. Call 732-297-7000 for a free consultation.